1x10
Shonda's Mustang Convertible
Ride Owner: Shonda. 22 Year Old Female.
Owner's Ride: 1989 Mustang Convertible.
Shonda's ride is so busted, there's a gaping hole in the ceiling. This, among other things, causes some trouble when it rains. There's also trouble for backseat passengers, one window is missing and the other won't roll down. And forget about listening to the radio, turning on the heat, or the air conditioning, 'cause none of this stuff works. She seatbelts herself into the car by wrapping the broken belt around the back of the seat, and then tying it in front of her. She will soon have seatbelts and a whole lot more once the guys at West Coast Customs take on the job. Xzibit is about to pimp her ride.
Additions & Improvements:
-Paint, raspberry pearl with gold shimmer lace designs
-New gold rims
-Touch screen DVD player
-Photo-booth in the front seat
-Digital camera in the passengers visor
-Printer in the arm rest
-A bubble machine in back of the car
-Gift from X, new digital camera
Shonda has officially been pimped.
Final Look
-Norrin Radd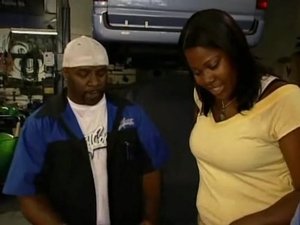 May. 09, 2004