1x11
Ezra's Nissan Maxima Station Wagon
Ride Owner: Ezra. 21 Year Old Male.
Owner's Ride: 1984 Nissan Maxima Station Wagon.
Ezra is a Dj who volunteers to help mentally disabled children, teaching them how to be a dj. He is lookin for some help from Xzibit and the guys at West Coast Customs to turn his ride into an official pimp mobile. His car has 2 busted headlights, the interior is torn apart, bungi cords hold up the bumper, and the car has two logo's, Nissan and Datsun. Ezra's "Maximus" as he likes to call it, needs serious help. Xzibit is about to pimp his ride.
Additions & Improvements:
-Paint, yellow with shredder graphics onto black
-18-inch rims, 2-inch drop
-Honda accord bumper
-Second sunroof
-Black velvet interior
-Neon interior lights
-Old school 45 record adapter logo on the head rests
-2 dual-tip exhausts
-D.J. set that includes twin turntables, a mixer, amps, and a mic in the back
-Turntables slide out in the back
-A video camera in the back
-10-inch monitor in the back
-Over $20,000 put into the car
-Gift from X, real time CD burner in the back
Ezra has officially been pimped.
Final Look
-Norrin Radd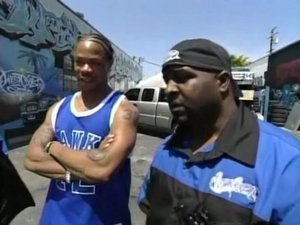 May. 16, 2004