2x5
Erin's Chevy Blazer
Ride Owner: Erin. 22 Year Old Female.
Owner's Ride: 1987 Chevy Blazer.
Erin's 1987 Chevy Blazer is far from blazin' these days. The monster of a ride looks like a monster with dents galore, chipping paint and Erin even has to use a screwdriver to open the doors! Erin wants a ride that represents her hardworking and determined personality, not a hunk of junk. After all, she bought this ride with her own money when she was only 16 years-old, and since then, has sunk about 10G's into the Blazer. This ride is in need of some serious help, and fast. Xzibit is about to pimp her ride.
Additions & Improvements:
-Paint, porsche yellow with flame graphics
-20″ giovanna rims with pirelli pzero tires
-Custom body kit
-Blazer dropped closer to the ground
-Panoramic sun roof
-Backup sensor with xzibit's voice notifying others that it's backing up
-Whale tail
-Viper with remote start
-M.I.S. video jukebox
-7″ touch screen monitor on the back of the center console
-Electric Fireplace in the back
-2 titanium 12″ woofers
-2 7″ Directed monitors
-PS2 with 2 wireless controllers
-ESPN NHL, NFL, and NBA 2k5 video games
-Gift from X, Custom beach cruiser bicycle
Erin has officially been pimped.
Final Look
-Norrin Radd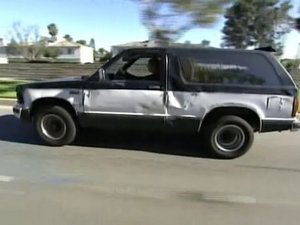 Nov. 21, 2004