2x7
Quoc-viet's Nissan 240 SX
Ride Owner: Quoc-viet. Male.
Owner's Ride: 1989 Nissan 240 SX
Quoc-Viet had good intentions when he tried to customize his 1989 Nissan 240SX. While buying an assortment of custom body parts for his ride had seemed like a good idea, actually installing the parts was another problem. The double-sided tape holding together the body kit has begun to lose its grip. In place of the passenger's seat, there's a radiator fan, headlights, gaming controllers, and more random stuff that has no business being there. Despite the fact that Quoc-Viet's rearview mirror is adorned with lucky charms, the car is a disappointment to his girlfriend and family. Luckily, the crew is ready to transform this junk pile into the car of his gaming dreams. Xzibit is about to pimp his ride.
Additions & Improvements:
-Paint, Green with graphics
-18″ rims
-New body kit
-Engine dress up kit
-Green neon lights on the inside
-Orange neon lights on the bottom
-2 Custom racing seats
-Indiglo Gauges
-Auto meter gauge pod, a clock and a volt meter
-Racing steering wheel with quick release
-3 7″ monitors in the trunk
-3 10″ monitors in the trunk
-12″ Fusion woofers with neon rings in the trunk
-4 Fusion amps in the trunk
-3 xbox's hooked up together with wireless adapters and wireless controllers, able to have up to 12 players
-Gift from X, 13 EA games which include Need For Speed Underground 2, Fight Night 2004, Freedom Fighters, MVP baseball 2004, Burnout 3 takedown, NCAA Football 2005, Nascar 2005 Chase for the Cup, Tiger Woods PGA Tour 2005, Madden 2005 and more
Quoc-viet has officially been pimped.
Final Look
-Norrin Radd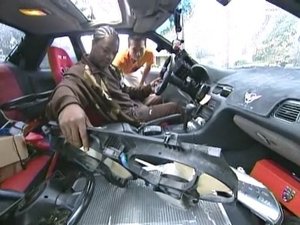 Dec. 05, 2004