2x8
West's Ford Fairlane
Ride Owner: West. 19 Year Old Male.
Owner's Ride: 1963 Ford Fairlane.
Owner's New Ride: 2005 Toyota 4runner.
West's 41-year-old ride is over twice his age, but no one is sure how much longer this Ford Fairlane is going to ride on. With nothing but tape holding it together in places, West may have to begin to look for a new whip, unless the guys at West Coast Customs get on the job, and quick.
When Xzibit rolls on into the garage with the Fairlane, the boys can't believe their eyes. This ride is definitely a classic, but not exactly practical for a 19-year-old guy about to start college. Seeing that West wants to go to college to become a mechanic, the WCC guys decide to leave the Fairlane just as it is for him to one day fix up himself with his future mechanic skills.
West still needs a ride though, and no one leaves West Coast Customs without a smile on their face, and an ultra-hot ride. X gets on the horn, and before we can say "pimped out ride," a brand new, 2005 Toyota 4Runner pulls into the garage. Now the WCC boys have something they can work with. Xzibit is about to pimp his new ride.
Additions & Improvements:
-Paint, 2 Tone, silver on the bottom, factory black on top with green flame graphics done by Steve Van Demon
-22″ chrome rims
-Drivesoft 2.0 includes GPS, video player, mp3 player, in car camera, internet, and 13,000 preset stations from all over the country
-KVH TracVision A5 mobile satellite system with DIRECTV
-2 15″ Directed flip down monitors
-Black leather with green inserts with flames
-Flames on the headliner
-10″ monitor under the car facing down for viewing how to videos
-Anti theft system, security camera takes a picture every 10 seconds when someone trys to steal the truck
-Auto motive diagnostic tool
-Precision power woofers and 10″ monitor in clear plexiglas box in the back
-Complete set of mac tools in tool draw that slides right out the back of the vehicle
-Gift from X, brand new sony vaio laptop
West has officially been pimped.
Final Look
-Norrin Radd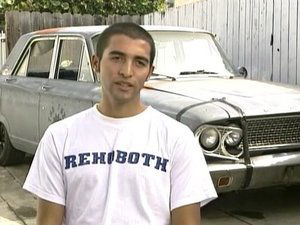 Dec. 12, 2004