3x5
JT's Honda Civic
Ride Owner: JT. 19 Year Old Male.
Owner's Ride: 1988 Honda Civic.
Additions & Improvements:
-Paint, violet candy with silver tribal graphics on the side and candy green pinstripes
-18″ axis rims with pirelli pzero tires
-Ground dynamics front bumper kit and APC grill and lights
-Lamborghini doors
-Ferrari style seats with custom heating kit in the seats
-3 7″ directed monitors in the dash with cameras on both sides and the back
-pull out tablet pc in the glove box voice and hand writing recognition
-Brand new suspension, adjustable ground control coil
-2 speakers with spinners in the trunk
-Gift from X, professional microphone that works through his car speakers
JT has officially been pimped.
Final Look
-Norrin Radd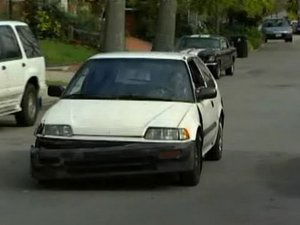 Apr. 03, 2005