3x6
Jekara's Chevy Bel Air
Ride Owner: Jekara. 21 Year Old Female.
Owner's Ride: 1955 Chevy Bel Air.
Additions & Improvements:
-Paint, white and pink with old school pinstripes
-20″ symbolic rims with bfg tires
-Cleaned up engine and new engine parts
-Chrome bird and grill
-Pink and white vinyl seats
-2 7″ monitors that pop out of the seats
-New dakota digital gauges
-New center console with 2 cup holders a dvd player a cd player
-Xm satelite radio reciever, plug n play
-3 10″ monitors under the trunk lid of the car and 3 cameras wired to each of the monitors
-Motorized closet in the trunk
-"Big Bertha" stitched on the top of the closet in the trunk
-Gift from X, new wardrobe
Jekara has officially been pimped.
Final Look
-Norrin Radd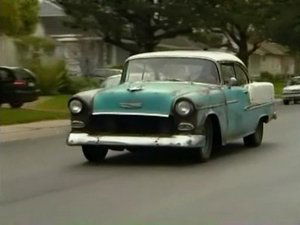 Apr. 10, 2005